TomTom's added an inbuilt heart rate monitor to its multisport watches - no need for a chest strap.
There was a lot of hype around Apple unveiling
its new watch
last month. One feature it promised was a heart rate monitor built into the watch - with no need for an old-fashioned chest strap.
Well there's no need to wait till Apple in 2015 for it - TomTom's Cardio Multisport watch has it already - I've been trying it out for a couple of months and it's an intriguing step up for running watches.
The heart rate info is measured through a sensor in the watch that monitors changes in the blood flowing through the wrist. It does this by shining a light through the skin and detecting how much the light reflection changes.
You do have to wear it tightly on the wrist to get the best measurements, but it gives a good guide to how hard you're pushing it - whether on the bike, running or doing a gym class. (One area the heart rate monitor doesn't work is swimming - the sensor won't work in the water.)
There's five intensity zones offered under the heart rate option - Sprint, Speed, Endure, Fat burn and Easy. Selecting one of these zones while you're exercising allows you to know whether it's time to speed up or slow down.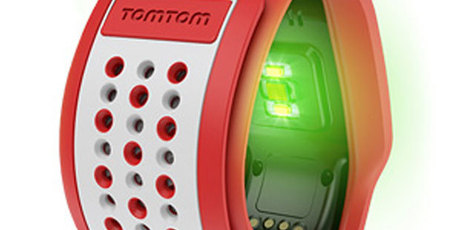 The practice of using heart rate monitors for training is controversial - cyclists are largely discarding it in favour of power meters, which are coming down in price.
It's thought that the variation between individuals people is just too great to apply blanket zones to the population.
So I was wary about how genuinely useful I'd find it. But now I've got the bike on a stationary trainer in the garage I'm looking for a more objective way to ensure I don't waste precious training time.
And while it's no great hassle to put on a chest strap, the simple act of attaching another gadget - after the iPhone for Strava tracking and the watch for GPS device all became a bit too much.
That's why putting cardiac monitoring on the watch is perfect - unobtrusive, but available to use easily when you need it.
The swim function is still one of the more impressive features on these watches, allowing me to be the go-to man for distance queries in my slowpoke lane at the Roskill Masters Swimming club.
Being able to see the heart rate info has been useful - the TomTom website that displays all the data has improved greatly. There have also been some good updates of the watch itself sent out online over the past few months, ironing out some of the options available on the watch (ie: it used to ask for left or right arm to be selected while picking swimming options, but no longer needs the info now)
It's a pretty simple watch to use - and is especially good for triathlon training, since it can map and display swim, bike and run info all in one place. The addition of heart rate takes it up a notch when it comes to more technical training methods but it's easy enough to take the step - and ditch that sweaty, smelly chest strap for good.
Weight and Dimensions

Battery lifetime:
Up to 8 hours (GPS+HR), up to 10 hours (GPS)

Display size 22x25mm / Display resolution 144x168

Thickness 13.8 mm / Weight 63 grams / Strap length 233 mm

Location: Location GPS + GLONASS /Location boost QuickGPSFix

Sensors:

Sensors (internal)
Motion sensor, compass, optical heart rate monitor / Sensors (wireless)
Bluetooth® Smart

Alerts: Beep & Vibrate

Water Resistance: Waterproofing 50m / 165 feet (5 ATM)

Measurements:Pace/Speed Yes

Distance/Calories
Yes

Heart Rate
Yes (Built-in Heart Rate Monitor)

Cadence
Yes (Cadence sensor - optional accessory)

Activities

Indoor Running
Yes

Outdoor Running
Yes

Cycling
Yes

Dedicated Bike mount
Yes

Swimming
Yes

Training

Race
Past activities + favourites

Goals
Time, distance or calories

Zone
Pace or Heart Rate

Laps
Time, distance or manual

Intervals
Yes
Source :
DC Rainmaker/ RunnerWorld/ Telegraph.co.uk